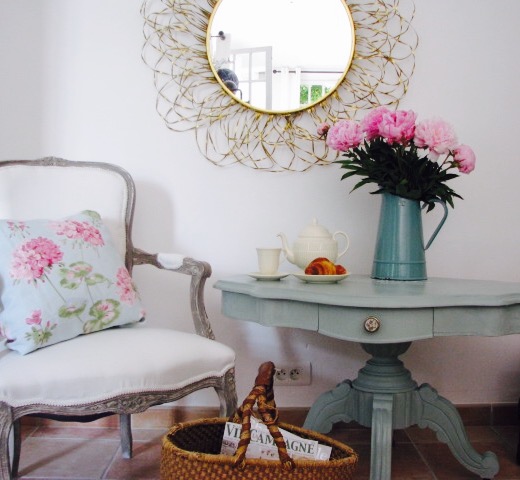 02 Jun

The coffee table makeover

Do you remember last week's post on all our beautiful finds from the local flea market? This week I was anxious to find a nice place for everything in our house. The coffee table and the two stools were in need of a makeover. I decided to start on the coffee table, thinking it would not be too much work. I already imagined to discover a beautiful wood inlay on the table top. The slight pattern under the thick layer of paint had made me curious. Could this be a little treasure to be unveiled? Well it was not…..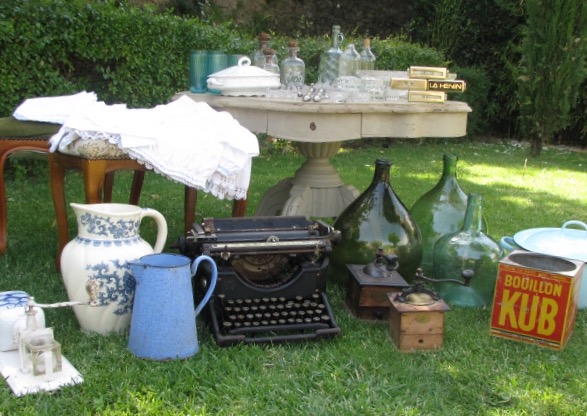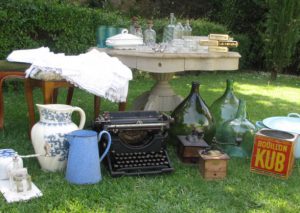 In the image above, the coffee table looks quite nice you might think.
Plus, wobbliness doesn't show in a picture.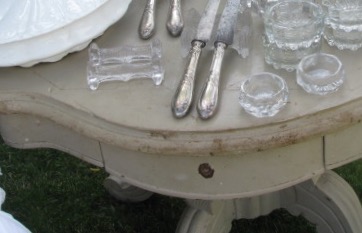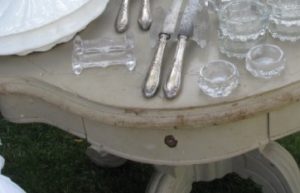 Let's have a closer look….
Not so nice huh? There was a lot of dirt that even a good scrub could not solve, yuk! I must tell you that a lot of old furniture we find is not for the faint of heart. But that is the whole issue here. I prefer to do a more extreme makeover. Of course it is nice if you find an inexpensive nice old piece of furniture just in need of some proper cleaning. But my intention is to show you how you can recognize potential.
There are a few things you should remember before you spend your money. Even only a few euros or dollars paid are a waste of money if the furniture turns out to be useless.
•  Always keep in mind that the seller wants to get rid of the item for a reason. Try to find out why. Me: "The coffee table, you are selling also?" (It was the only piece of furniture in this seller's stall, the rest were small household items.) Seller: "Oh yes, it needs repainting and I don't like doing that, plus it is also a bit small for our family."
•  Always, I mean ALWAYS check for little holes caused by termites. You don't want to have an infestation of termites eating the rest of your furniture. Termite infestation in wood furniture makes a horrible damage that may lead to total disposal of the furniture. I mean, a colony of termites can consume around 280g (about 10 ounces) of wood a day. In that case, if you have a dry wood desk which weighs 100kg, it will be all eaten in just 1 year. Lots of old furniture shows termite holes, but the termites are no longer there. To be sure, tap on the wood (with a hammer) in different directions and see if some powder comes out of the holes. If that's the case, you can be sure the wood is contaminated. That doesn't mean you cannot buy the furniture, but don't take it inside your house. Leave it isolated and give it a special treatment. You will find a large choice of products in your local DIY store.
•  And last but not least check if there is any damage that needs repair. When an item needs a repair I always consider if I can do it myself or that it needs the hands of a professional. Try to stay away from wobbly chairs, broken legs etc. These are usually very difficult to repair and in the end, after a lot of work you will find out that the item cannot be used. Me: "the table is quite wobbly; may I have a closer look?" I then noticed the wobbliness being caused by a long screw connecting the top with the legs and could easily be fixed.
So let's continue with the coffee table.
After some sanding I discovered this…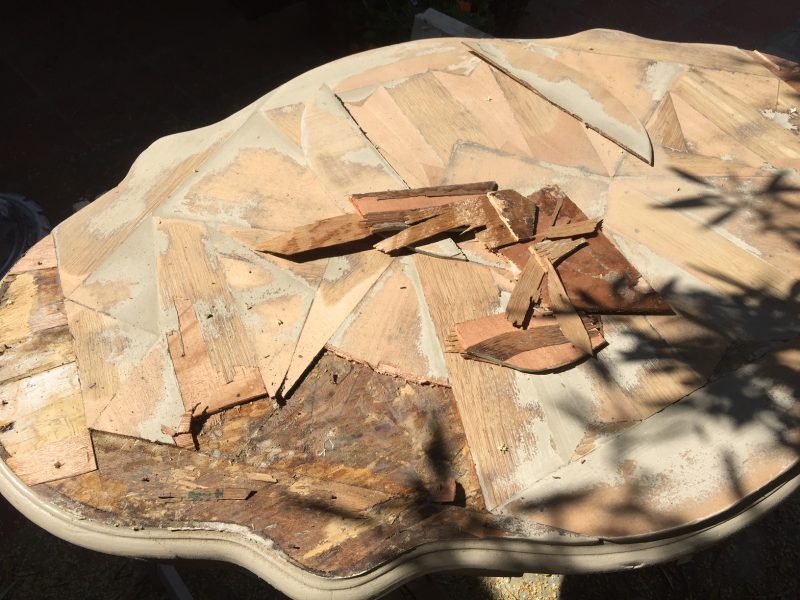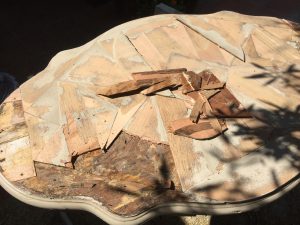 A previous owner has covered the table top with pieces of plywood in a very 'creative' way (NOT!!). And while I don't mind furniture not being perfect, this was too much for me. It needs to be functional. And this table top was so uneven that I was very impractical to use. So off it went.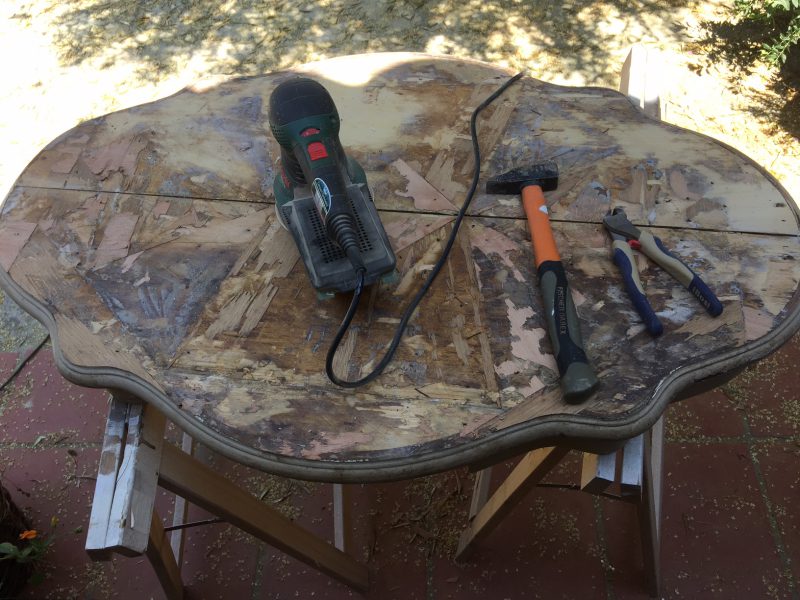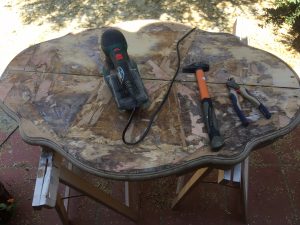 The result after more than an hour of pulling nails, scraping glue and veneer and a lot of sanding (my poor neighbours…). I ended up with an OK flat surface. I then decided to make a new table top with some wood I had lying around.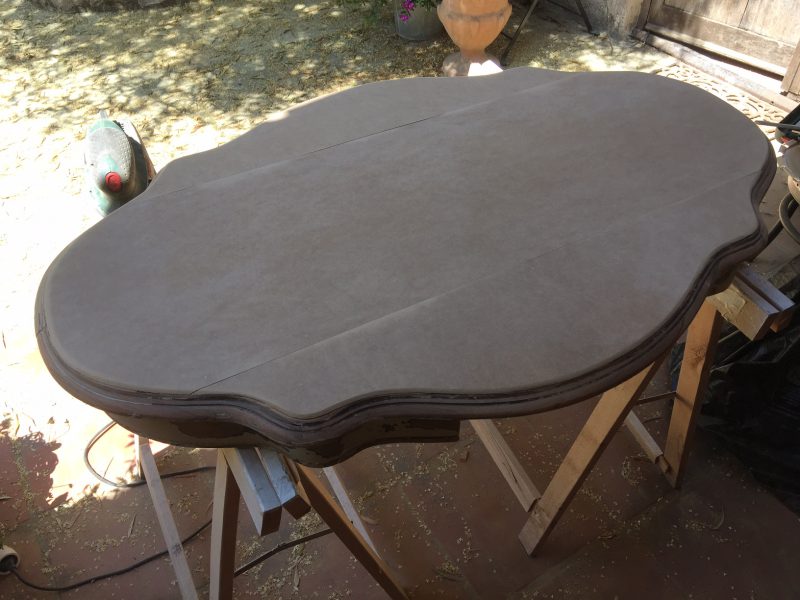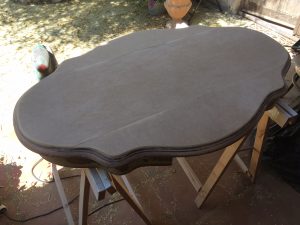 I agree it would have been better to buy a piece of wood that would cover the whole table at once, but hey, I had this already and I told you I don't mind a bit of imperfection.
For the paint I remembered a new type of chalk paint that I ordered on-line. It is called: Vintage paint, from Jeanne d'Arc Living. I did find the lid very difficult to open and after a few times opening and closing the paint can, the lid became even useless. I had to transfer the paint in another container. However, I was impressed by the coverage it gave. The paint is not too thick and easy to apply. When it dried it smoothed out nicely. One coat was enough. I used the colour 'Dusty Green' as I find it very 'shabby chic'. I must admit that my style is not extreme 'shabby chic', but this table fitted exactly in the setting I wanted to create.
When the paint was completely dry (chalk paint dries really fast!) I applied a layer of clear furniture wax, that I buffed the next day. Although I had found very nice drawer pulls in my stash, I still wanted to add something to the top. so I used one of my stencils, which I sealed with another layer of wax. With a piece of very fine sandpaper I sanded the pattern, to make it look a bit old.
Et voilà! The table is finished.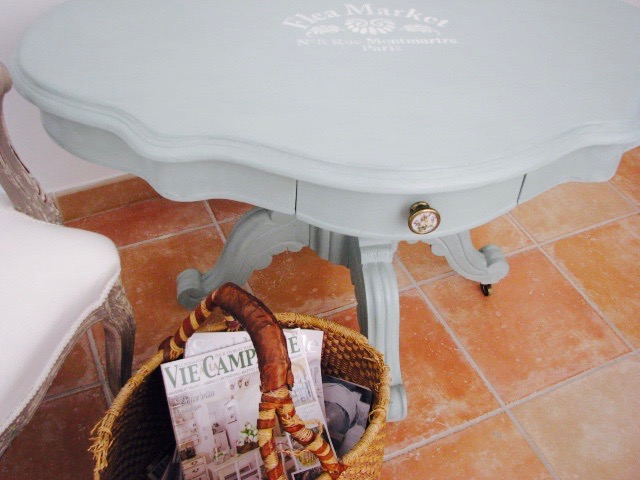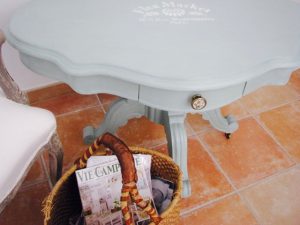 Just let us know what you think of this makeover. I you have any questions, feel free to contact us. You can discover more of our beautiful finds and interiors on social media. Just click on the icons on the top of the page.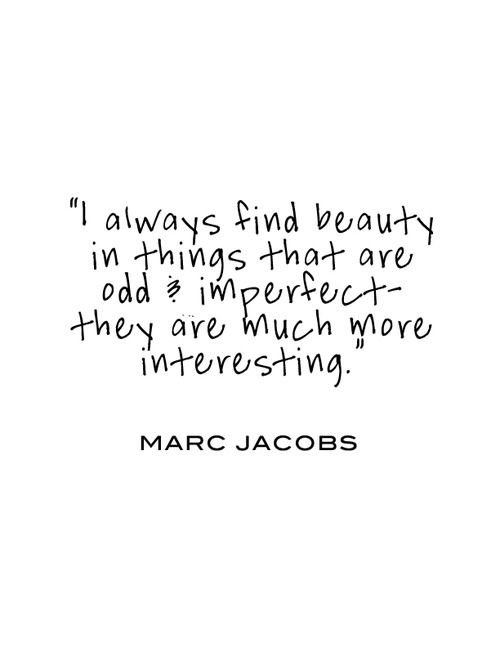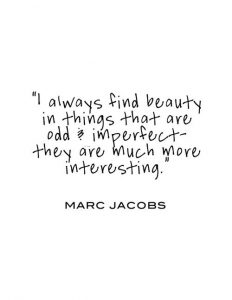 A la prochaine…..Jacqueline
* Disclosure: I did not receive any products or compensation for the products mentioned in this article. All words and opinions expressed in this post are my own.