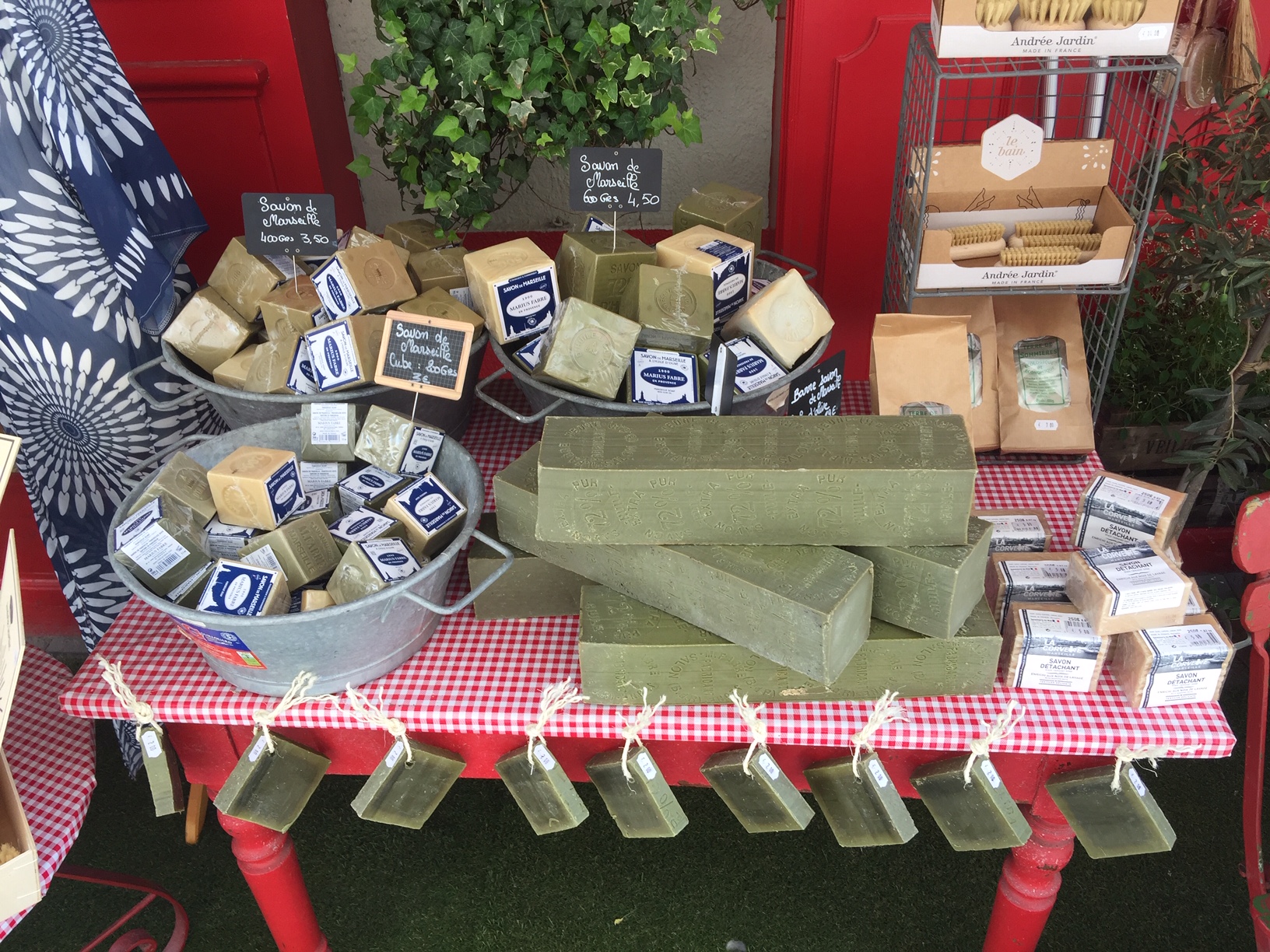 14 Nov

Marseille soap; France's best kept secret?

A friend asked me the other day what is so special about Marseille soaps. Every summer one can see these typical blocks of soap on every market. This summer when one of our friends almost bought some of the very commercial little coloured soaps I immediately stopped her and took her to the merchant where I get my soaps. He buys them directly from one of the factories in Marseille and if you are lucky you are one of the first to buy a fresh batch. This is when the soaps are still very soft and much darker in colour.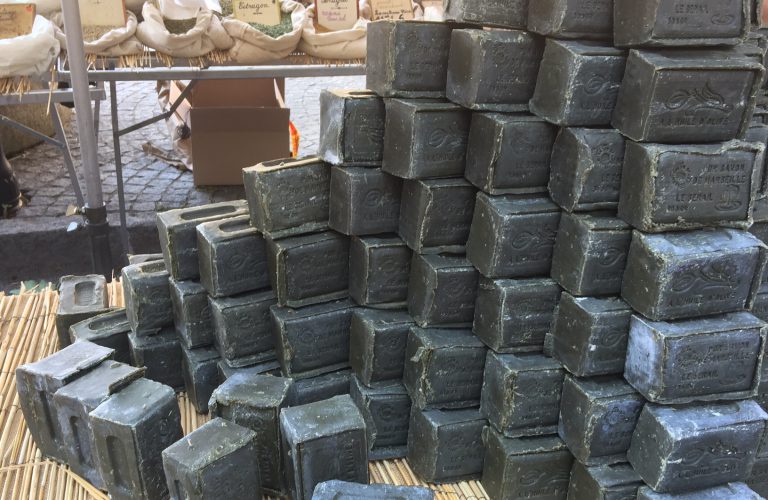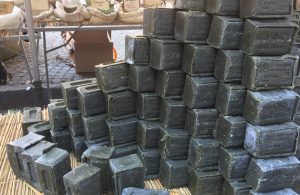 But first a quick history on these so very versatile soaps.
In the first century, the Romans used a soft detergent called "sapo" to wash their hair. It was in the sixteenth century, that soap manufacturing came to the Provence. This was due mostly to the fact that the principal ingredients of soap, olive oil, salt and soda ashes were produced in the region (the Camargue). As a result, Marseille became the first official soap manufacturer in France, followed closely by Salon-de-Provence and Toulon.
The authentic Marseilles soap is a 100 % natural product, exclusively made with vegetable oils such as olive oil, without any colouring or artificial additives. It must contain 72 % of oil, which is stamped on every cube of soap. Most of the time the soaps come in two different colours. The green soap is made from olive oil and coconut oil. It gets its green colour from its rich olive oil content. This soap is recommended for cleansing the body and the face. The white soap is made from palm oil and coconut oil. This soap is traditionally used for laundry. Some soaps will have additional essential oils and flowers for the scent, such as lavender, rosemary and rose petals.
Due to it's natural virtue and composition, the soap lasts twice as long as an ordinary soap found in the supermarket. For a 250g Marseille soap and a shower a day for one person, count nearly two good months of use. Plus, it's a hypoallergenic product not containing any chemicals or preservatives and is ideal for sensitive and allergy prone skins. The use of this soap is often recommended by dermatologists for acne, eczema, psoriasis and for all fragile and sensitive skins. One of my children had severe eczema in the first years of her life. The French paediatrician recommended to use only Marseille soap on her. I even had to wash all her clothes separately with petals of this soap. Due to its pH at 9.5 it doesn't cause any irritation and is smooth and gentle on the skin.
There are many uses for Marseille soap. One of my friend's ninety-three-year-old mother revealed some of her secret uses for this soap that I want to share with you.
For centuries, Marseille soap is well known to be a fantastic stain remover. As a natural washing powder, it is gentle on delicate linen (wool, silk, baby clothes) and avoids allergies and irritations. As a stain remover, gently rub the humidified Marseille soap (the big block ones) on the dry stain before washing or mix some soap flakes with warm water and let the stained item soak for minimum 30 min to overnight (depending on the stain). It's a life saver for me now that my seven- month-old daughter, Charlie, starts to eat solid foods. For the Madame's and Messieurs, lather up your Marseille soap until you get a nice, creamy foam, it will be a perfect shaving soap. The olive oil in Savon de Marseille will have a protective effect on the skin making it feel soft and smooth. Marseille soap can also be used as a moth repellent by placing a piece of soap in the middle of your clothes. Some people use it as an antiseptic by gently rubbing the soap on the affected area. It will also help the healing.
One can never have enough Marseille soap, but as my collection got quite impressive I've decided to try and make my own body wash. You simply grate your bar of soap or if you have a 'fresh' soap it will be soft enough to cut it with a knife into little pieces. Once you're done grating (or chopping up) your soap, put the flakes in a cooking pot. Add two to four cups of water depending on how much body wash you wish to make. Cook the mixture on medium heat while stirring until the flakes disappear and the mixture has turned into a milky substance. It took me about five minutes.
Once the mixture starts to cool down you can add some essential oil or coconut milk. I personally did not do that as I like the Marseille soap as natural as possible. The mixture needs to cool own for a couple of hours. If you think it's too thick you can simply add some more water and reheat again. When you find your mixture has the right consistency and it's nice and cool, just add it to an empty container. I used an empty body wash bottle with a pump that I rinsed out. Internet has many websites with tips and tricks to make your own body wash so feel free to see if you find the prefect recipe.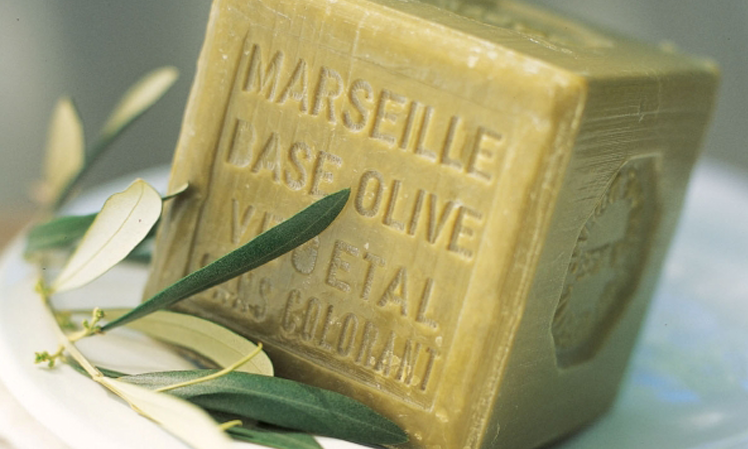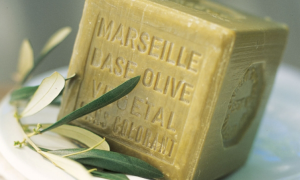 I like to put a nice block of Marseille soap on a cute plate in my bathroom, forbidding my family members to use it as its 'only' for decorative purpose. But it never takes long before I see it has been used by someone. Oh well, at least another reason to buy some more!!!
A la prochaine…..Jacqueline
* Disclosure: I did not receive any products or compensation for the products mentioned in this article. All words and opinions expressed in this post are my own.