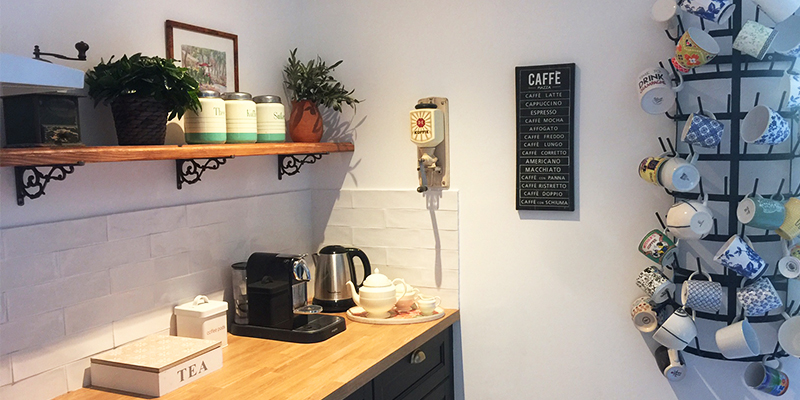 12 May

No kitchen without a coffee corner

When we started to think about the layout of our new kitchen we knew for sure we wanted a light and open space this time. I especially wanted open shelving and enough free wall space to be able to display my collection of mirrors and paintings. A space where I could easily change the décor depending on the season. Our kitchen is on the ground level of our house and our living room is on the first level. Both levels face our garden, whereas the other floors with the bedrooms face the front of the house. We therefore wanted to create a central area in our kitchen with a big table and lots of comfy chairs around it. In a future blog I will take you through the whole before- and after process of our kitchen redo. We actually rearranged the whole ground level as to create a big open kitchen, a utility room with LOTS of storage space and a workshop for me where I can mess around with my furniture without making my family jump over half finished projects or step into sharp objects lying around. You could call this a win-win for everyone, right?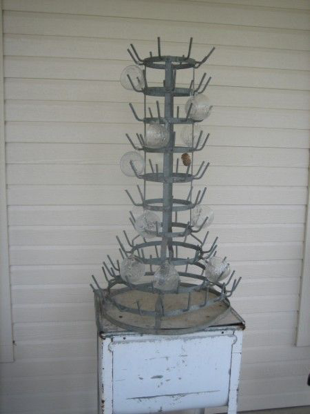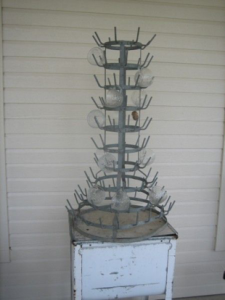 I have never liked wall mounted cabinets in a kitchen, so I looked for inventive and original storage options to free up some much needed cabinet space. After some research on Pinterest, I decided that some form of a mug rack would be a good solution, but I didn't like any of the examples I found.  On one of my shopping missions my eye suddenly fell on an old French bottle drying rack. Of course I forgot to take a 'before' picture (again), but the rack looked exactly like the one on this picture.
I had it cut in half, making sure I kept two vertical metal strips to rest against the wall. I then asked a friend to weld two horizontal metal bars with holes into them to secure the rack to the wall. I first thought to be able to secure the rack with hooks, but then I got scary visions of my precious mug collection falling on the floor!!! Finally, I gave the rack two layers of black spray-paint. (Just make sure you use the type of paint made for metal, providing extra protection against rust.)  I then secured the rack on the wall, and decorated it with my mugs. For families with young children, just be careful that the rack is hung high enough, as the metal hooks can be dangerous for them. For the lower area I suggest to cover the sharp ends of the hooks with little rubber or polystyrene balls for example.
To finish my 'coffee' corner I decorated it with a Dutch 'Douwe Egberts' coffee grinder, given to me by my father, some other items that the previous (Dutch) owners left behind when they moved and the black 'coffee menu' I found in IKEA. I am so in love with this part of our kitchen now.
"La vie commence…. après la premiére tasse de café…."
 À la prochaine… Jacqueline