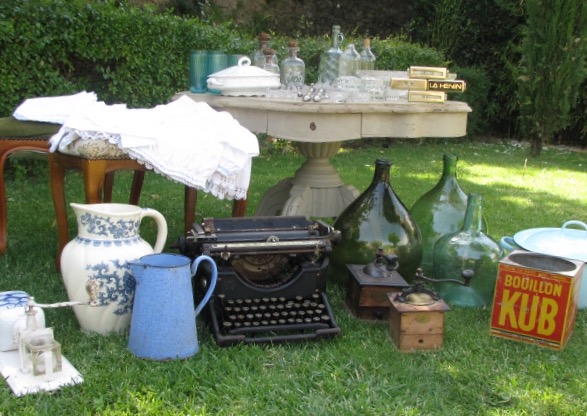 26 May

A day of beautiful finds…..

Spring time is for many people also a time of cleaning their house, throw unnecessary items, and even doing some redecorating. In this time of the year each village in our area will organise a 'vide grenier', this means literally 'clean out your attic'.  Going to vide greniers is one of my favorite activities.

Nathalie and I decided not to go this time at four o'clock in the morning like some 'professional' treasure hunters do. We don't need to find amazing valuable antiques, as we like to get furniture that nobody wants anymore and give it a complete makeover. We decided to look this time for smaller decorative vintage items with a 'je ne sais quoi' French touch. By the time Nathalie came to pick me up I was already nervously jumping up and down for an hour. Nathalie remarked my excitement as it's of the same type she is having when she spots a haberdashery store. We walked down to the village centre and we could not believe our eyes.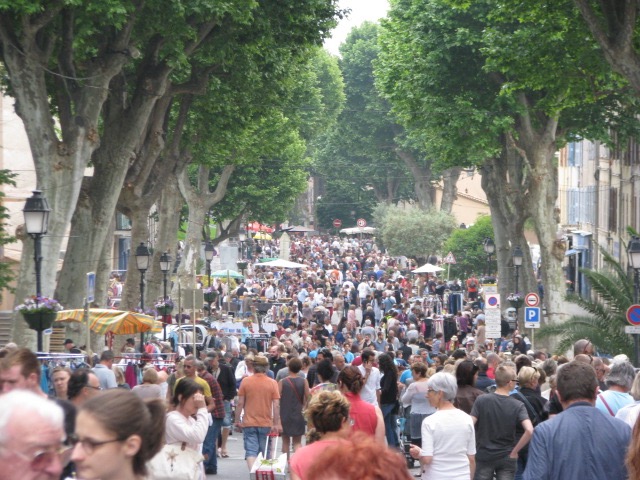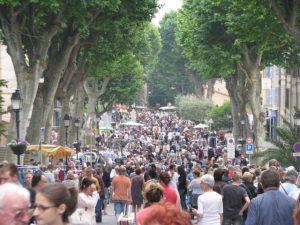 The streets where so filled with people that we could hardly see any of the stalls. All the restaurants and bars where already opened and the terraces filled with people having coffee and of course a fresh croissant. All of this before 9 o'clock in the morning. I immediately spotted some very nice items, but I tried to control myself as we had put ourselves on a budget. We decided to first browse the stalls and then return to see what we could buy. But of course some items where so nice and cheap that we could not resist to immediately buy them.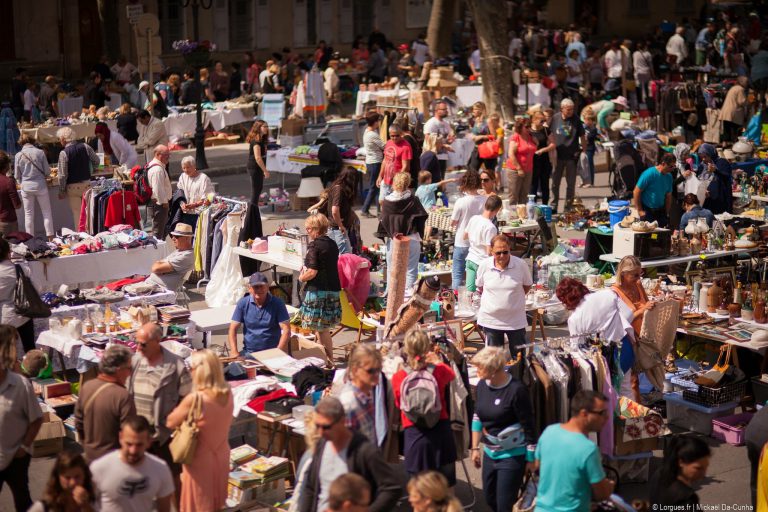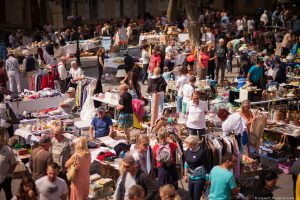 After two hours our trolley and our arms where filled with beautiful finds and we even had a few items reserved and on hold. In need of a cup of coffee and a fresh 'pain au chocolat' we returned back to the house to drop off our purchases. As busy as it was early in the morning, around lunchtime, the streets where empty allowing us to pick up the rest of our purchases. It still surprises me how important lunch is in this country.  Many stores are simply closed between twelve and two, which is sometimes frustrating for me. We have spend the rest of the afternoon unpacking our treasures and admiring them.
The old coffee table is going to get a makeover, but we first need to find some vintage wheels and new drawer pulls for it. Before we do a makeover on an old piece of furniture that has been painted over like this one, we always try to sand it first. You never know what we find under the thick layers of paint. Could be beautiful wood inlay. The two little stools need to be completely restored. All the other items just need a good clean and some polishing.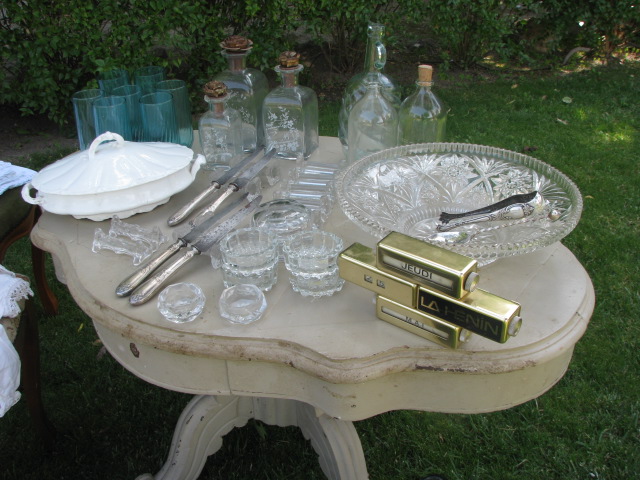 We noticed a lot of glass items being sold yesterday and we were able to find some real nice things. I personally love the vintage glass fruit bowl and the little glass knife holders. The glass candle holders and the other glass items came in a box all together. The guy only wanted to sell it as a lot. We found nice embroidered white napkins after going through boxes of linen. The lady selling all this couldn't find the matching table cloth anymore so she sold us the napkins for a price that made Nathalie whisper: "thats cheaper than paper napkins! " Of course it was also Nathalie who spotted the vintage cooking pot. I am sure she is already thinking about all the food she will prepare in it. I think this light blue colour is really special, and it was in perfect state, just needed a good scrub. The soup terrine is just asking to be filled with homemade Gaspacho, the blue/green glasses filled with cold water and a slice of lime. I am now imagining a summer table setting on a Sunday afternoon with friends. A late lunch going into dinner with a game of 'boules' in between. When it gets dark we will fill the glass candle holders with little tea lights.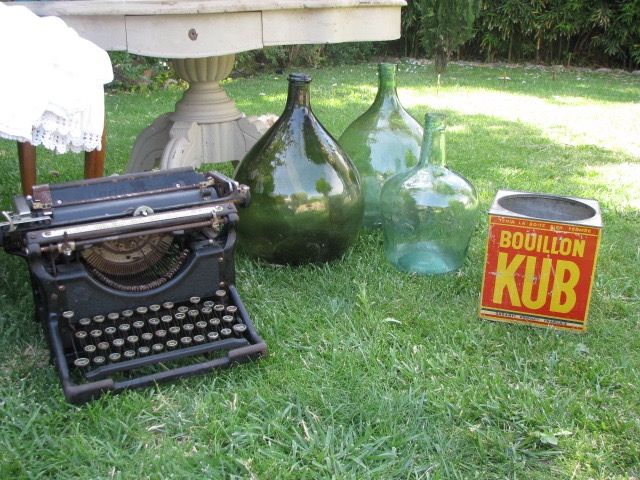 I already own an old typewriter, but when I spotted this one, I couldn't resist. We are renovating the room that will be my office at the moment. I can already imagine this typewriter on the vintage desk that was given to us by my partner's parents. Maybe it will inspire me to write stories like Agatha Christie! In the future reveals of  the rooms in our house that we are renovating you will see more of all our beautiful finds of today!
Here are some tips and advice for you in case you like to visit a vide grenier or a brocante this summer. First of all there is a difference between the two events. A vide grenier is a French version of a car boot sale, flea market or a garage sale. Individual driveway-type sales do exist but they are uncommon. Here in Provence, villages will often have an annual sale. These sales are the best. Locals will drag their junk out onto the winding streets and often start drinking wine at a very early hour. A vide-grenier is usually organised by some sort of village association. In Lorgues you pay 10 euros for a spot that you need to reserve well in advance. On a vide grenier, locals sell anything they no longer need. A brocante is more professional. So items are being sold by people who do this for a living. I noticed both types of resellers yesterday. The professionals have proper tables to display their items and the items look a bit cleaner. It is important to get to know the difference between the professional resellers and the locals just selling the contents of their attic. There is a giant difference in their pricing.  I must say I saw some really nice things yesterday, sold by these professionals, but the prices they mentioned made us run away quickly. If you really want a certain object, we advise you to return towards the end of the day and see if the item stayed unsold. Specially for bulky items you will be able to bargain then as the sellers are not too keen to reload everything back in their truck. Most of the 'private' sellers have no clue how much they want to ask for an item. We advice to dress simple and do not carry an expensive handbag, you don't want to create the idea you have a lot of money to spend. We advice not to bargain if an item is already priced very low, it will only frustrate. Try to look for other items from the same seller you like and ask for a price of the lot.  It will then be easier to negotiate. Again you can also go back later in the day to see if the seller is willing to give you a lower price. For bulkier items you can ask the seller to keep them for you. We usually give them a small part of the agreed price and a time when we come back to pick it up. Never show up only the last minute as the seller might think you will not come anymore. I never buy anything unless I can immediately envision a place for the item in my house or in a setting I want to create. If you buy stuff without any idea of a place or a use for it, it will most of the time end up in your own attic.
How do you find out where a vide grenier is being held?
The best thing to do is look out for the often yellow posters that go up about a couple weeks before vide greniers and brocantes. These are usually located at roundabouts or at the entrance or exit to a village.
The best website that has up to date information is:
Here you can find out if the event is a brocante or a vide grenier/marché aux puces as well as how many stalls will be at the market. Or just go to the local tourist office and ask if they have an event calendar.
" L'art antique est un marchand de vide-grenier de rêves
auto-reconstructifs de la relation amoureuse saine
et de la noble richesse qui rendent heureux indéfiniment "
(Claude-may Waia Némia)
A la prochaine…..Jacqueline