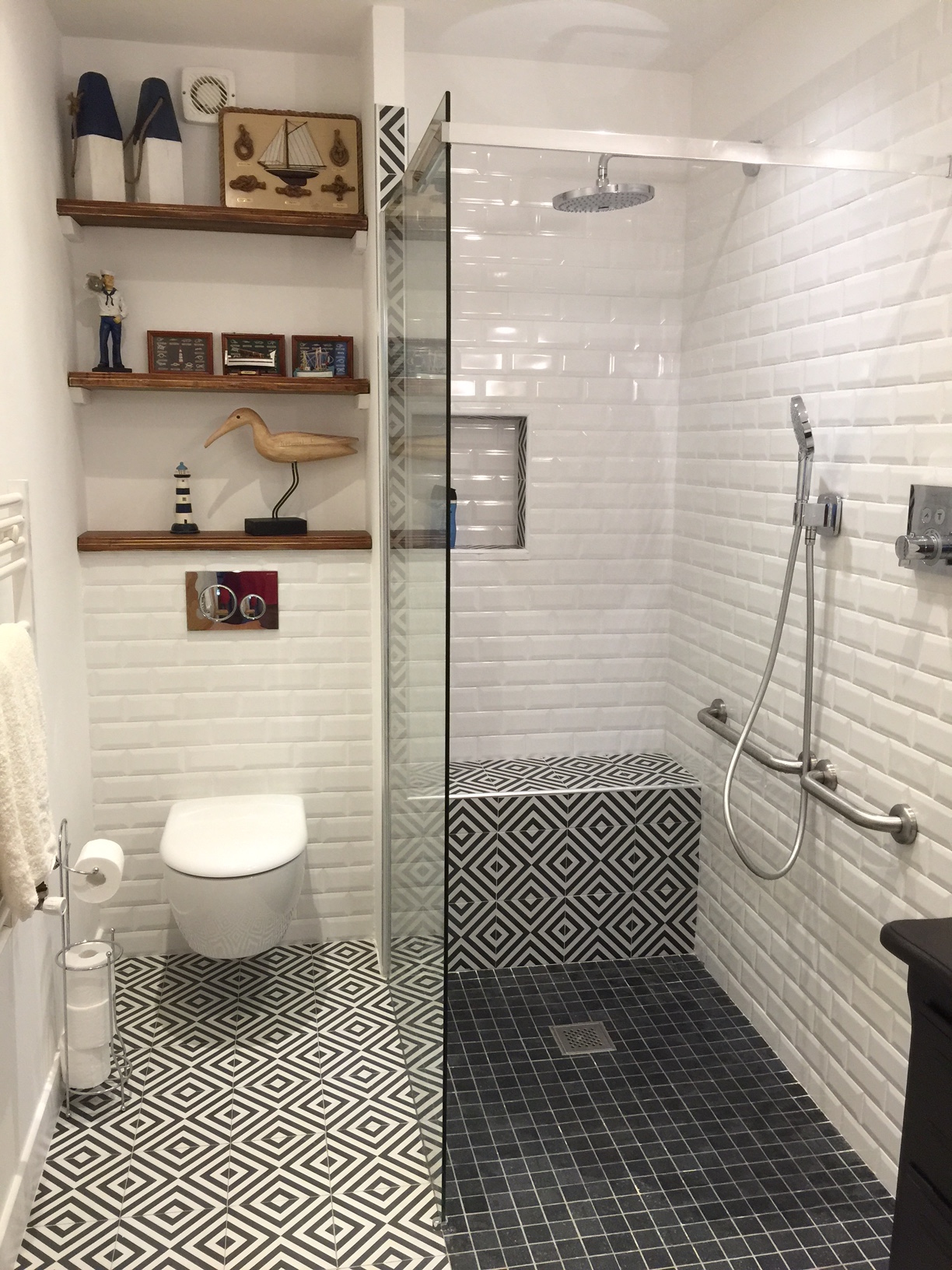 10 Jul

Makeover – turning a chest of drawers into a bathroom sink unit

These last few months we worked very hard to finish two more rooms in the house. First of al we wanted to create a new bedroom for my son with a bathroom. My son is visually impaired (tests say he only sees 10% but nobody can tell me what that really means) and he has limited use of his left hand. We therefor wanted to create a bathroom with easy shower access, a bench to sit on while showering and lots of contrasts. I also looked for a solution where I can control the water temperature in a safe way and where I can turn the water on and off without getting soaking wet myself. We are working on my son's independence in doing it all himself, but he still needs supervision.

Here are some pictures of how the bathroom looked before.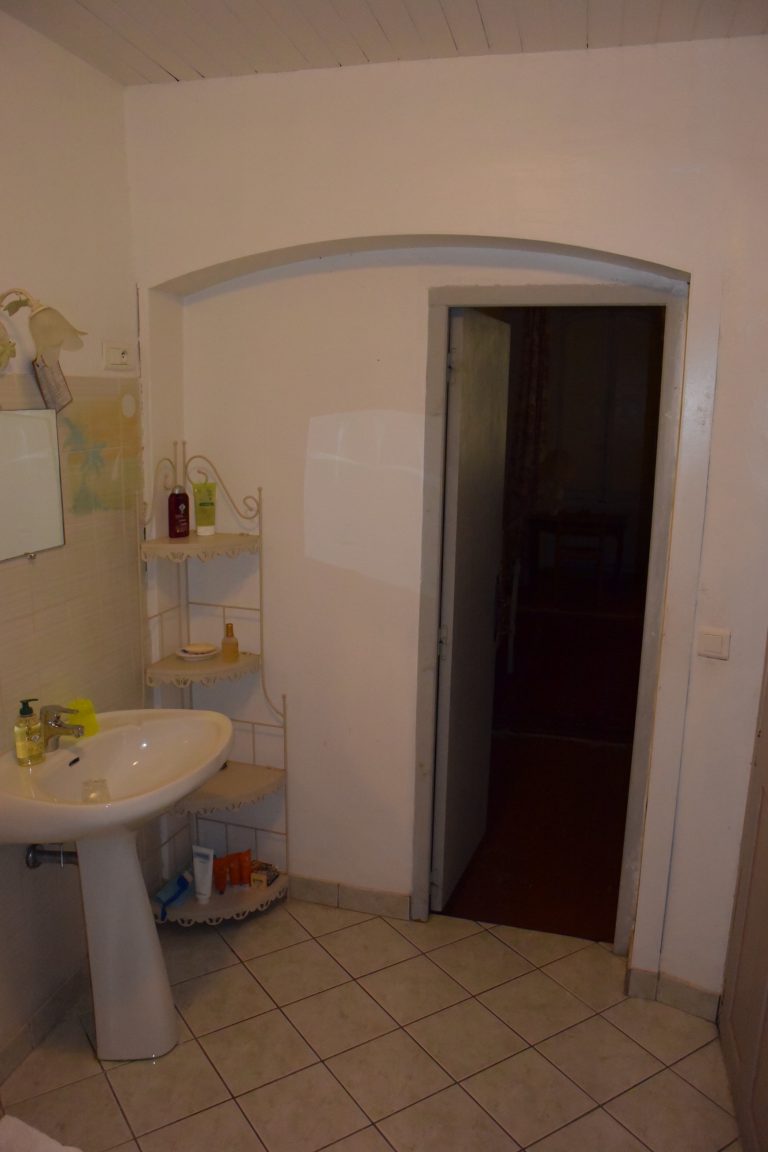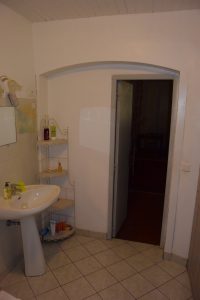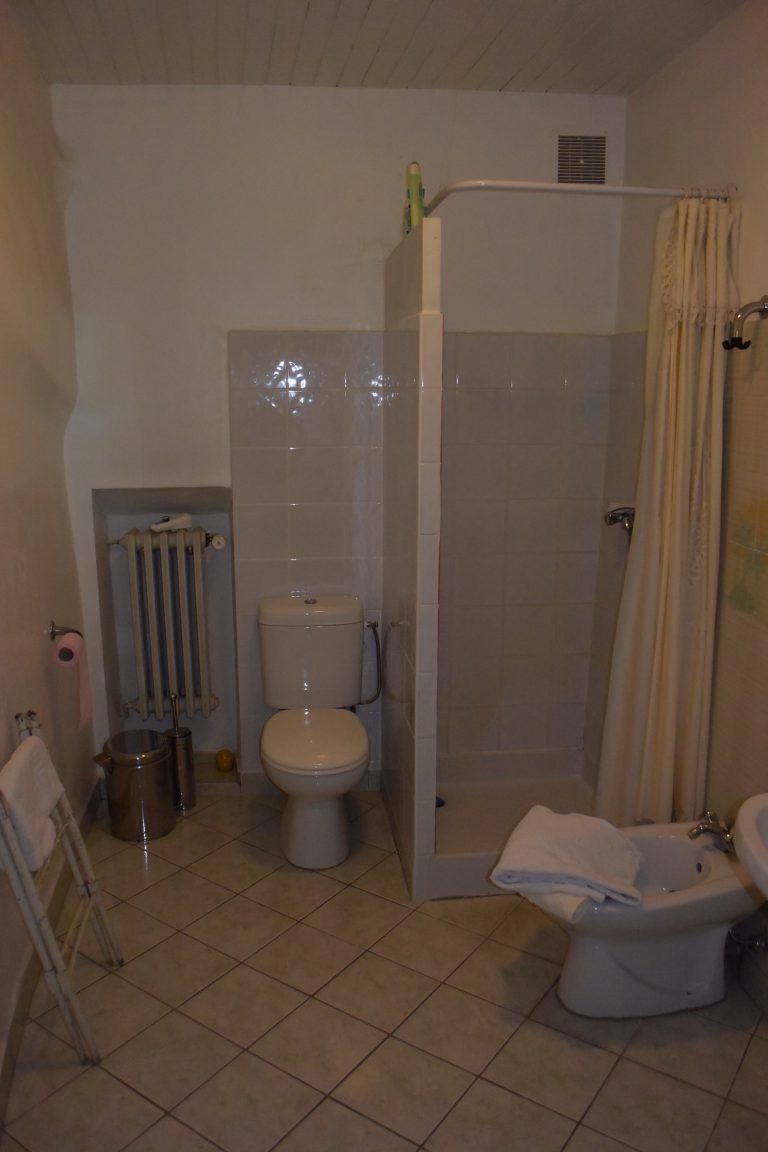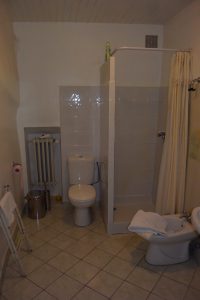 I searched the internet for ideas and came to the conclusion that I wanted to transform an old chest of drawers into a vanity sink unit. I didn't like any of the store-bought vanities and I was also quite shocked by the prices for, in most case, plywood! The different posts on the internet and Pinterest made it seem like an easy job. Well, maybe the transformation itself was not that difficult and I also had the amazing help available of a handyman helping us also with the walls and the tiles. But FINDING a suitable chest of drawers was the issue here. How high should it actually be? Do I want the sink to be into the countertop or on top? Again, will it not be too high then? Do I need to adapt all the drawers and end up with no storage space? After even more research (meaning me entering my friends houses with a tape measure to find out the height of their vanity sink units) I knew exactly what I needed. And I must say the type of unit, height and width is very depending on your situation.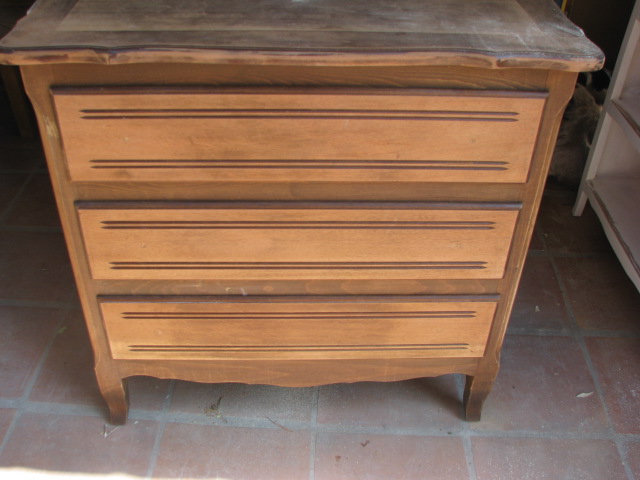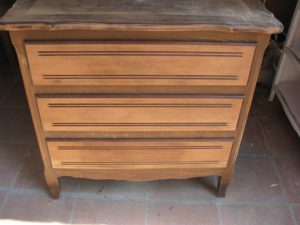 For my son's room I found a chest of drawers in a second hand store. Being under some pressure to finish the bathroom, I already sanded the piece and took the handles off, when I realised I didn't take a 'before' picture. For my son's bathroom the chest of drawers had to be quite small and it was not easy to find a nice size vanity sink for it. It couldn't be a sink with a predrilled hole for the tap, there was not enough space. I also wanted it placed on top because of the height. I also wanted a wall mounted tap. This prevents water to be all the time around the tap and damaging the wood. Because, even painted and two extra layers of clear countertop varnish, the wood gets damaged in the end. A sink placed on top like ours is the simplest way. You just need to cut a hole to connect the waste pipes to the plug hole. Luckily there was some space behind the drawers to pass the plumbing pipes. And as we started from scratch here and changed all the pipes, we where able to put everything in the wall and at the right height. In some cases you might loose the top drawer or part of it.
I ordered new drawer pulls on line and painted the chest of drawers with two layers of black acrylic paint. Here is the result!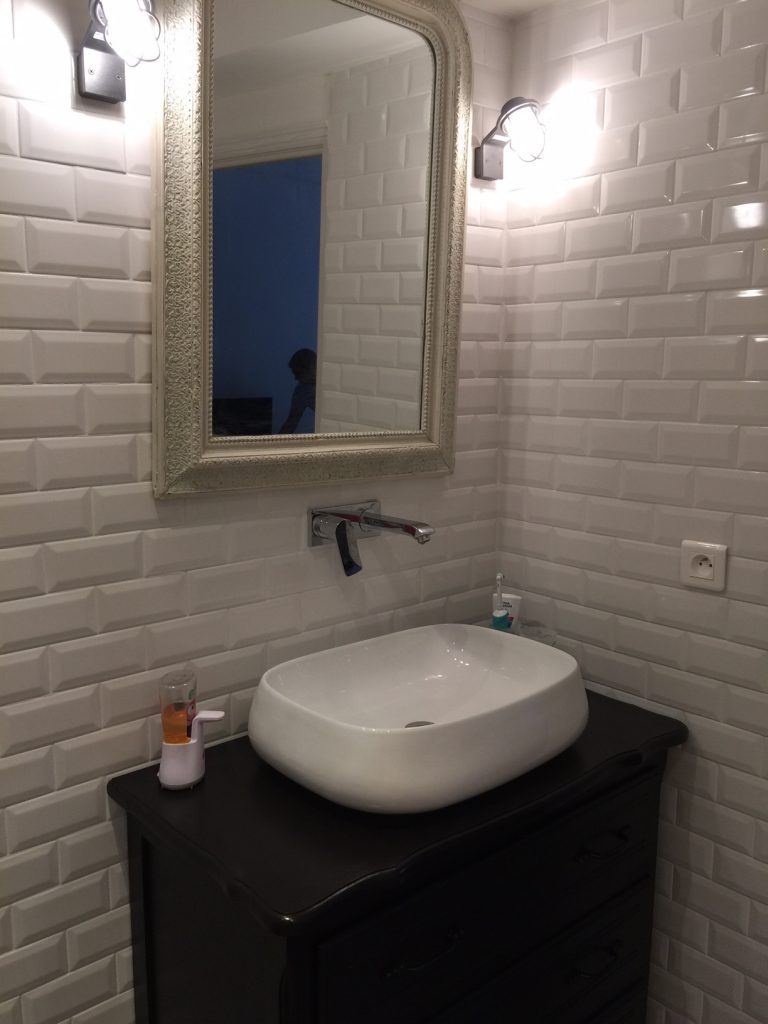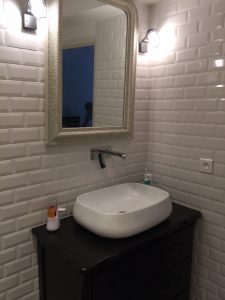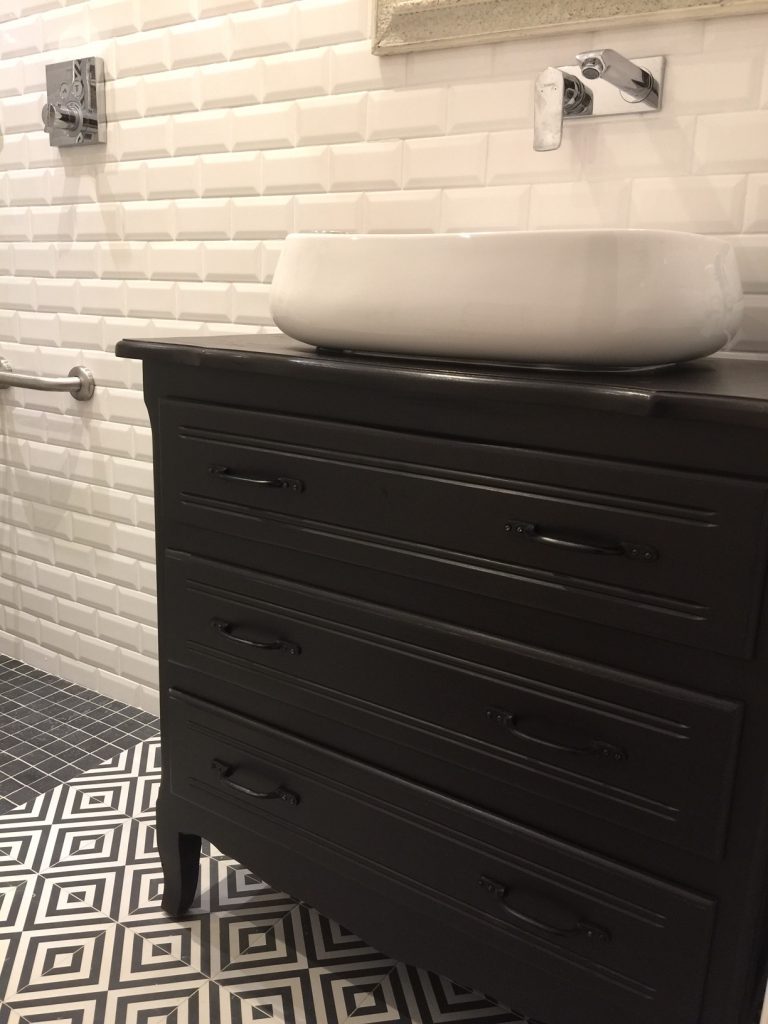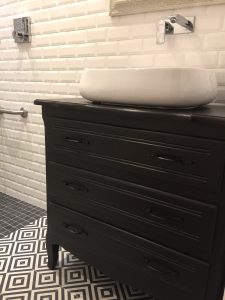 We tried to pick contrasting tiles. For my son it is easy to distinguish the area where the actual shower starts and the bench he can sit on. For the glass shower screen I have to see if I need to add more contrast to the side and maybe put a large decal on the glass itself. The shelves are made of cheap scaffolding wood that I sanded. I added a little trim with my new router. For the colour I always mix wood stain with a coloured (mat or satin) varnish until I have a colour I like. Two layers of this product and a bit of sanding give me the nice 'old' effect. The mirror came from one of the other rooms,  left by the previous owners of the house. I first wanted to paint it but when I put it in place temporarily I actually liked it just as it is. The little wall lights are from the outdoor collection sold by our local DIY store. I was just thinking if it is made to be in the rain it can be in a bathroom as well. Last week Friday we worked like crazy to finish everything and clean the floors. When he came home from school we tricked him into going to his 'old' room that he discovered to be empty. The look on his face when he realised he would spend his first night in his new room was amazing and made up for all the hard work.
"Every happy memory
created for a child
is another treasure
of a lifetime."
–Donna Marie
A la prochaine…..Jacqueline
* Disclosure: I did not receive any products or compensation for the products mentioned in this article. All words and opinions expressed in this post are my own.